Yorkshire tipping into the abyss. 164 for 7, with Bresnan gone for 1. Another catch for Foakes and another wicket for Sam Curran.
News from Graham at Headingley:
"Jonny Bairstow has gone. Huge blow for Yorkshire. He's been undone by extra bounce and feathers behind off Rikki Clarke for 29. You feel avoiding defeat is a task beyond Yorkshire now unless Tim Bresnan can return to his glories of 2016 with the bat. He has joined Jack Leaning, who has 26, at the crease. Yorkshire 160/6 and still 25 behind. "
And here's a little story: Bairstow out for 29 c Foakes ( !) b Clarke. Yorkies in much bother now 163 for 6, still trailing by 22.
And as I check back, I see that Ireland have lost 2, Joyce run-out (no!!) for 43 and Balbirnie lbw for a duck. Ireland 69 for 2.
Fifteen minutes gone and not a wicket fallen — has summer truly arrived? Amla moves on to 92 not out, who not so long ago was playing through this …
My coldest day ever on the cricket field!
The expression says it all😂😂 pic.twitter.com/xNbeJhxotP

— hashim amla (@amlahash) May 1, 2018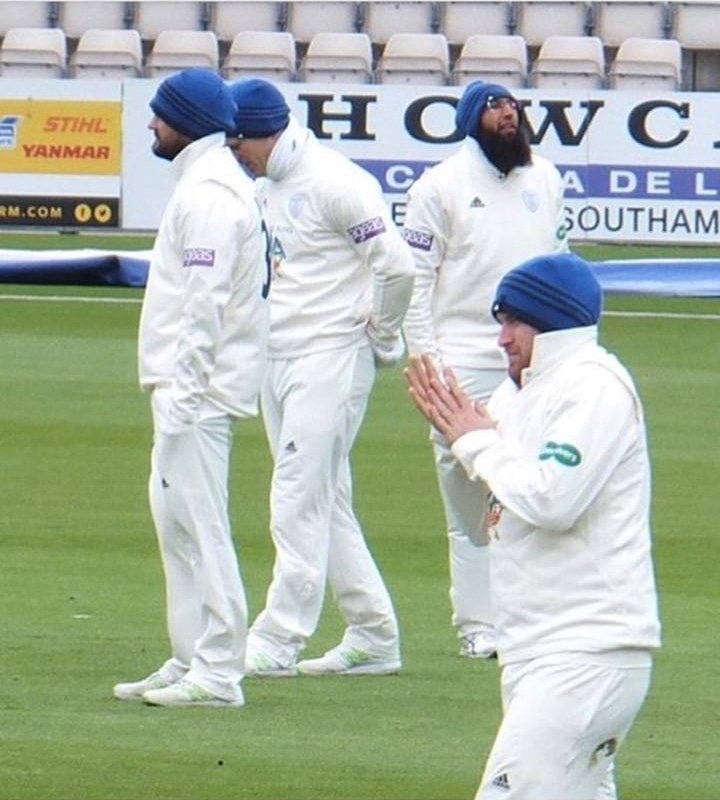 Oh dear, this does not bode well. More from Vic:
"Jack Leach is not on the field. Jamie Overton is his substitute."
And it is hello from Vic who might even have got the sandals out in the south-west:
"Good morning, Tanya. Good morning everyone and greetings from a sunkissed Taunton, where the home side is concerned not only by the scoreboard, which shows that Vince and Amla were in fine form yesterday on the way to wiping out a deficit of 275 — it is now 97. Before the start Jack Leach, potential matchwinner here today, potential Test player next week, was in the nets, practising his batting. Jason Kerr, the first team coach was hurling balls with the dog ball thrower. Leach was struck on the left hand, clearly in considerable pain and promptly departed to the pavilion. The home supporters are anxiously waiting to see whether he takes the field in a few minutes. Will let you know."
Hello! Welcome to the final day of this round of Championship games — the last for a while. Of course the sun is out, the elderflower nearly in bloom and the season off to a flyer. Four games remain in play today:
Surrey v Yorkshire: Surrey 414; Yorkshire 229 and 142 for 5 (Bairstow 25, Leaning 13; Virdi 3-52) trail Surrey by 43 runs.
All eyes are on Jonny Bairstow after reports that Ed Smith has his eye on handing the gloves to Ben Foakes and moving YJB up the order, which may have contributed to Bairstow's furious hitting in the first innings. But he'll do well to extricate Yorkshire from this mess. Yesterday there were three wickets for off-spinner Amar Virdi including Joe Root for 23, who had been out earlier the same day for 14 – both times to 19 year olds. Sam Curran was awarded his county cap after taking 6-54 in Yorkshire's first innings, becoming the fourth youngest Surrey player to be capped, and the fourth youngest to 100 wickets after Waqar Younis, Martin Bicknell and Jack Crawford
Somerset v Hampshire: Somerset 506; Hampshire 231 and 178 for 2 (Vince 63, Amla 86) trail Somerset by 97 runs
This could be a thriller, watching Vince — in his last innings before the Test team is chosen — and Amla try to bat out the day.
Middlesex v Gloucestershire: Middlesex 455-8 dec; Gloucestershire 210 and 66 for 2 (Roderick 6, Bracey 5)trail Middlesex by 179 runs.
Gloucestershire will do very well to escape here and
Derbyshire v Durham: Derbyshire 427 and 1-0 (Slater 0, Reece 1); Durham 520. Derbyshire trail Durham by 92 runs
which has draw written all over it.
Five games finished yesterday:
A thriller at New Road where Essex came from behind to win by 32 runs, with Worcester now cut adrift at the bottom of the table. Lancashire beat Nottinghamshire by an innings and 67 runs to register their first win of the season, with nine wickets for Graham Onions and six for Jimmy Anderson. In Division two, Warwickshire beat Northants by six wickets, thanks to a century from Will Rhodes, and already look a pretty safe bet to bounce back to Division one at the end of the season. Northants can already taste the grain of the wooden spoon . And in two relatively low scoring games, Leicestershire beat Glamorgan by three, yes three, runs for their third Championship win since 2012, and Kent beat Sussex by 58 and kicked them out of second place. Matt Henry took ten wickets in the match.
In other news: Ireland are following on in their first Test against Pakistan at Malahide where the weather is an unhelpful grey today and where Mick Jagger was spotted yesterday. Jos Buttler hit an unbeaten 94 for Rajasthan Royals – his fifth consecutive IPL fifty since being promoted to open, which equals Virender Sehwag record. And Yorkshire are considering broadcasting live from Scarborough for the match against Surrey next month.
Tanya will be here shortly, in the meantime here are the live scores from day three:
Division One
Hampshire (231 & 178-2) trail Somerset (506) by 97 runs with eight wickets remaining.
Yorkshire (229 & 142-5) trail Surrey (414) by 43 runs with five wickets remaining
Division Two
Derbyshire (427 & 1-0) trail Durham (520) by 92 runs with 10 wickets remaining
Gloucestershire (210 & 66-2) trail Middlesex (455-8d) by 179 runs with eight wickets remaining
Test match
Ireland (130 & 64-0) trail Pakistan (310-9) by 116 runs with 10 wickets remaining